Luxury Homes with Tennis Courts in Los Angeles
Search Luxury Homes with Private Tennis Courts
Tennis your thing? You're probably in the market for a home with a tennis court. This is it. Below, you will find all the available and active properties for sale throughout Los Angeles with a tennis court on site.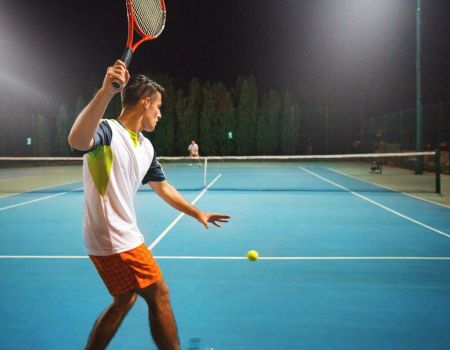 Benefits of a Tennis Court at Your Home
Transform your backyard into a tennis oasis and unleash your inner Serena Williams or Roger Federer. With a tennis court on your property, you can indulge in your love for the sport anytime you wish. You won't have to waste time and energy traveling to a separate location to play; instead, you can simply step out of your backdoor and start playing.
Staying Active
Having a tennis court on your property is a great way to stay active and improve your fitness levels. Tennis is a great workout for both your body and mind. It improves your overall health, including your endurance, speed, strength, balance, and coordination. Furthermore, it helps reduce stress levels, enhances focus, and boosts confidence.
Family and Friend Time
Aside from the health benefits, a tennis court on your property is a great way to bring family and friends together. You can invite loved ones over for a friendly game of tennis, and share in the joy of the sport. It's also a great way to bond with your children, who can develop their tennis skills right in the comfort of your own home.
Add Value to Your LA Home
Moreover, having a tennis court on your property can add significant value to your home. It's a unique feature that is sure to impress potential buyers and increase the overall value of your property.
Privacy
One of the key advantages of having a tennis court on your property is the added privacy it provides. When you have your own tennis court, you can play the game without the distraction of other players, noise or crowds. This is especially beneficial for those who prefer to play in a quiet and peaceful environment.
Who You Play With
Playing on your own court also allows you to have complete control over who you play with. You can choose to invite family and friends over for a game, or you can play alone and focus on improving your skills. Additionally, having a private court means that you won't have to deal with the pressure of performing in front of others, allowing you to fully immerse yourself in the game.
Customize
One of the significant advantages of having a tennis court in your own backyard is the ability to customize the space to your liking. You can add various features and amenities to enhance your tennis experience, such as installing shade structures to protect you from the sun or adding seating areas for spectators to watch the game.
Design the court to meet your specific playing style and preferences. This means you can choose the surface material, court dimensions, and net height, among other things. By creating a personalized playing environment, you can optimize your game and ensure that your tennis court meets your individual needs and preferences.
In addition to these features, you can also create a mini clubhouse or lounge area, where you can relax and unwind after playing. This can include amenities such as a mini-fridge, comfortable seating, or even a TV to watch tennis matches. By adding these features, you can elevate your overall tennis experience and create a space that is not only functional but also enjoyable to spend time in.
In conclusion, having an on-property tennis court offers unparalleled convenience and is a great way to integrate physical activity into your daily routine. It allows you to indulge in your passion for tennis, spend quality time with loved ones, and customize the experience to your liking.
Ready to get started? Browse these tennis home listings below and learn more about having a tennis court in your backyard. There are plenty of choices and more options than you probably even imagined. Start here or simply call me (310) 701-3808 or contact me here to have personalized service for your tennis home search in LA.
Search Tennis Court Homes in LA
Search All Tennis Court Homes
June 3, 2023
$4,250,000
Med. List Price
Contact Your Luxury LA Real Estate Expert