Top 5 Beaches in Malibu
Posted by Beata Mandell on Wednesday, October 25, 2023 at 3:19 AM
By Beata Mandell / October 25, 2023
Comment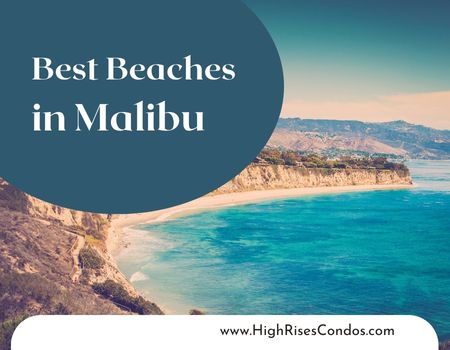 Southern California boasts many of the best beach communities, with Malibu near the top of anyone's list. Living in Malibu offers a luxurious lifestyle with access to the gorgeous coastline from just about anywhere in the community.
This sunny, coastal town is home to about 13,000 people, featuring iconic neighborhoods and some of the best luxury homes in California. Many celebrities choose to own a home in Malibu because of the desirability and exclusivity of these favorite location.
One of the best features of living in Malibu is being close to the beaches. Whether you love to surf, to lay out on the beach, or just want to be close to the coast to enjoy the ocean air and breathtaking views, consider these top 5 Malibu beaches to narrow down where you want to live in this coastal paradise.
1. Malibu Lagoon State Beach
Also known as Surfrider Beach, Malibu Lagoon State Beach is a historic location because it is known as one of the birthplaces of modern surf culture. It is located where Malibu Creek meets the ocean and features great surf, a picnic area with tables, nature trails, and the Malibu Pier just to the east. On the pier you can find great restaurants to try, or enjoy a fantastic ocean fishing experience.
While this beach is known for being one of the best places to surf, it's equally as enjoyable out of the water. With beautiful views and a well maintained beach, you will love hanging out here all day. The nature trails are a haven for bird enthusiasts, winding through the natural habitat of over 200 native bird species.
2. Zuma Beach
Zuma Beach is one of the most kid-friendly beaches in Malibu, with lifeguards on site, bathrooms, food stalls, and plenty of parking. The vast sandy area is perfect for setting up camp and enjoying a full beach day. This is one of the largest and most popular beaches in Los Angeles County, and when you visit you will quickly understand why. It offers the classic Southern California beach experience with all the conveniences you need.
3. Point Dume Beach
Point Dume is located a bit Northwest of Malibu, boasting views of Santa Monica Bay. If you want to escape the crowds and busy atmosphere of Southern California, Point Dume is your ideal getaway.
This promontory juts out into the ocean and offers amazing views of the Malibu Coast, Catalina Island, Santa Monica Bay, and the Santa Monica Mountains. Take a coastal hike, explore some caves, and even try rock climbing on the cliffs. It's also the perfect place to try to catch sight of California gray whales during their December to April migration period.
4. El Matador Beach
If you are in search of a scenic beach location for a photo shoot, El Matador Beach should be at the top of your list. A steep staircase will lead you down to an utterly scenic location, boasting truly impressive rock formations and secluded coves.
Hidden beneath the bluffs, El Matador Beach lets you feel like you are far away from the busy Los Angeles hustle and bustle, tucked into a scenic enclave along a long stretch of sand and surf.
5. Paradise Cove
Paradise Cove has been features in many movies, including X Men, American Pie 2, and Monster-in-Law. This famous beach is a Southern California favorite for good reason, boasting pristine sand and gorgeous ocean views.
The community surrounding Paradise Cove boasts charming, cozy surf cottages and a beachfront cafe, which offers lounge chairs on the beach available for rent so you can enjoy cafe service with your toes in the sand.
Want to learn more about living in this gorgeous location? Whether you are looking for a Malibu condo for sale or a luxury house in the area, we can help. Contact us any time to begin the search for your ideal property.