The Role of Virtual Reality in the Los Angeles Real Estate Market
Posted by Beata Mandell on Friday, September 15, 2023 at 3:56:43 PM
By Beata Mandell / September 15, 2023
Comment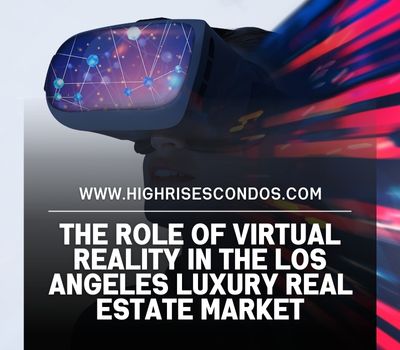 Virtual reality (VR) has emerged as a valuable tool in the Los Angeles real estate market, revolutionizing the way properties are marketed, viewed, and sold. The adoption of VR technology in Los Angeles real estate has provided numerous benefits for both real estate professionals and potential buyers. VR is used in numerous ways to streamline the real estate transaction process. Keep reading to learn more about how this technology is playing a vital role in the Los Angeles real estate market.
Property Tours
While many buyers would like to see the property in person, this is not always possible. Whether the buyer is out of town, does not have time, or simply wants to see make the sure the property is a great candidate before spending time traveling to it, being able to take a tour of the property with a virtual showing can be an attractive option for potential buyers.
VR technology allows potential buyers to take virtual property tours from the comfort of their homes. Instead of physically visiting multiple properties, buyers can put on a VR headset and explore homes as if they were there in person. This saves time and makes the home-buying process more convenient, especially for out-of-town buyers.
Immersive Home Viewing
While all online listing content is helpful, an immersive VR experience is the closest thing to really seeing the property for yourself. VR provides an immersive experience that goes beyond static images or traditional videos. Users can virtually walk through a property, look around each room, and get a genuine sense of its layout and design.
This level of immersion helps buyers make more informed decisions about which properties to visit in person. Because of this, offering a VR tour of your property can give you a competitive edge over comparable properties that do not offer the same perk.
Reach More Potential Buyers
VR is particularly beneficial in situations where potential buyers are unable to physically visit a property due to distance or travel restrictions. For example, international buyers interested in Los Angeles real estate can use VR to explore properties without being physically present in the city.
As VR has become more popular in certain markets, like the luxury real estate market in Los Angeles, it is almost expected by some buyers. International investors, for example, will be looking for properties that can thoroughly "view" without having to travel.
Virtual reality tours can be shared online through various platforms, reaching a broader audience of potential buyers. This can be particularly useful for luxury properties in Los Angeles, which often attract high-net-worth individuals from around the world.
VR technology is also more accessible to a wide range of individuals, including those with mobility issues. This inclusivity ensures that more potential buyers can explore properties regardless of their physical limitations.
Efficient Decision Making
VR technology can accelerate the decision-making process for both buyers and sellers. Buyers can quickly eliminate properties that don't meet their criteria, while sellers can attract more serious and qualified buyers who have already viewed the property virtually.
If it's true that time is money, the investment in a VR property tour is going to be worth every penny.
Property Staging
Staging a property is essential to show your potential buyers the strengths of your home. VR can be used to virtually stage properties, allowing possible buyers to see how a space can be furnished and decorated to its full potential. Additionally, buyers can visualize renovations or remodeling projects using VR, which can help them better assess the property's potential.
The real estate market is always changing. To navigate this dynamic industry, you need a professional who is paying attention to market trends and details like the role of technology in marketing the property. We can help you enjoy a successful experience, so contact us any time to learn more about selling your property in Los Angeles.