The Role of Homeowners Associations in Luxury Los Angeles Communities
Posted by Beata Mandell on Saturday, September 9, 2023 at 2:49:10 PM
By Beata Mandell / September 9, 2023
Comment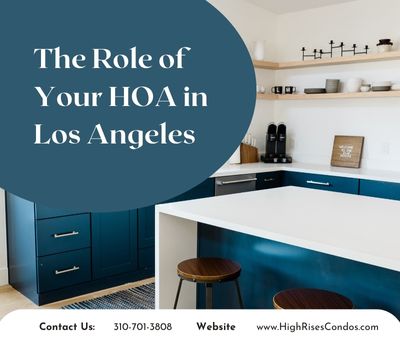 Many luxury homes in Los Angeles are located within an HOA-managed community. Before buying a home in one of these neighborhoods, it is crucial to understand the role of a homeowners association in general, and the specific details of the association you are considering.
To learn more about homes for sale in Los Angeles and finding the right property for you, contact us any time. Whether it's a high rise condo in downtown LA, a single family home near the beach, or anything else, we are here to help.
Wondering what you need to know about a homeowners association? Keep reading for information.
The Role of the HOA
Luxury communities in Los Angeles are known for their opulent amenities, pristine landscapes, and exclusive atmosphere. To maintain the high standards expected by residents, luxury communities often rely on the HOA to play a pivotal role in managing various aspects of community living.
Property Maintenance and Landscaping
One of the primary functions of an HOA in a luxury community is to oversee property maintenance and landscaping. Depending on your particular community, this might include:
Maintaining meticulously landscaped common areas, gardens, and green spaces that enhance the community's aesthetic appeal.
Ensuring that all homes and shared facilities meet the highest standards of upkeep, including paint, roofing, and exterior landscaping.
Managing infrastructure such as roads, sidewalks, lighting, and drainage systems to guarantee they remain in excellent condition.
Amenities Management
Luxury communities in Los Angeles often boast an array of high-end amenities, and the HOA is responsible for their efficient operation. Common amenities in the Los Angeles area include:
Clubhouses, often including event spaces, fitness centers, and dining areas.
Pools and spas
Recreation facilities like sports courts, golf courses, and other recreational facilities to provide residents with premium experiences
Security
Nearly all Los Angeles condos have HOAs that provide security services, and many of the single family home neighborhoods do, as well. Maintaining a sense of exclusivity and safety is crucial in these communities. HOAs often offer:
Gated entries, monitoring and controlling access to the community through secure gateways or guardhouses.
Security services with security personnel or surveillance systems to enhance safety and privacy.
Financial Management
Effective financial management is vital for the long-term sustainability of a luxury community. HOAs are responsible for collecting monthly, quarterly, or annual dues and managing them. This includes:
Creating and managing budgets to cover operational expenses, reserves, and future improvements.
Collecting fees and assessments from residents to fund community maintenance and services.
Establishing and maintaining reserve funds to cover major repairs, emergencies, and replacements.
Architectural and Aesthetic Standards
One of the many benefits of an HOA community is the preserved beauty of the area. Luxury communities often enforce strict architectural and aesthetic guidelines to maintain the community's upscale appearance. The HOA plays a role in reviewing and approving architectural plans and exterior renovations to ensure they align with community standards. Additionally, the HOA is responsible for implementing guidelines for landscaping and outdoor décor to maintain a cohesive look.
Community Governance and Dispute Resolution
HOAs establish a framework for community governance and decision-making. This often includes a board of directors and community meeting. The HOA oversees the election and governance of a board of directors responsible for making key decisions and then holds regular meetings to involve residents in decision-making and addressing any concerns.
Additionally, disputes may arise between residents or between residents and the HOA. Luxury community HOAs often serve as mediators or dispute resolution entities to maintain harmony.
Insurance and Risk Management
Luxury communities typically require comprehensive insurance coverage to protect common areas and amenities. The HOA is responsible for procuring and managing insurance policies to mitigate risks. This protects the homeowners' property values and ensures continuing access to community amenities.
Benefits of an HOA-Managed Community
While it is not for everyone, an HOA in either a condo building or neighborhood can offer a long list of benefits that are well-worth any potential downsides. These benefits include:
Enhanced property values thanks to the HOA's meticulous management of amenities and maintenance
Access to amenities and services
Community connection through planned events, communication among neighbors, and camaraderie built through the management team
A sense of exclusivity, privacy, and security
To learn more about buying a home in a neighborhood with an HOA in Los Angeles, contact us any time.