The Rise of Smart Homes in Los Angeles
Posted by Beata Mandell on Friday, September 15, 2023 at 3:27:01 PM
By Beata Mandell / September 15, 2023
Comment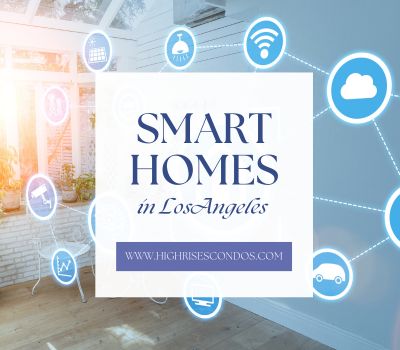 Los Angeles is known for being on the cutting edge of fashion, innovation, entertainment, and more, a true trend setter for the nation. In the Los Angeles real estate market, we have seen a rise in the number smart homes being bought and sold, with an emphasis on adding smart home features to most homes.
Whether it is a full-blown smart home with technology integrated throughout, or just a home with a few key pieces of technology in place, this role for technology is undeniably popular in Los Angeles.
What is a smart home?
Smart homes, which can also be called connected homes or home automation systems, are residences equipped with technology and devices that enhance the efficiency, convenience, security, and control of various aspects of daily life.
These technologies are interconnected and can usually be controlled remotely using smartphones, tablets, or voice commands. Smart home devices and systems are designed to work together seamlessly. Many devices use common communication protocols like Wi-Fi, Zigbee, or Z-Wave to ensure compatibility and ease of integration.
Home Automation
Home automation is at the core of smart homes. It involves the integration of various devices and systems to automate tasks and provide centralized control. Some of the most popular automation features include:
Smart lighting systems, which allow homeowners to adjust the brightness, color, and scheduling of their lighting remotely. Smart lighting systems can even include window coverings that are remotely controlled, to give you ease of control over the natural lighting in your home. This is an excellent option for those who want flexibility in the ambience of their space, and also for those with disabilities or mobility challenges to streamline the lighting process.

Smart thermostats enable temperature adjustments and energy savings through remote control and automation. These systems can also work with an algorithm to learn your preferences and keep your home at your desired temperature.

Smart locks, which

provide keyless entry and can be controlled and monitored from a smartphone. You may find these useful for yourself, but they also come in handy for letting in guests, teenage children, and service providers in the home.

Smart security systems include cameras, motion sensors, and alarms, which can be accessed remotely to monitor and secure the home. These are available in a wide range of price points and levels of security to provide you with peace of mind.

Smart TVs, streaming devices, and audio systems, which can be integrated into the whole house system for seamless entertainment experiences.

Smart plugs and outlets, which can turn appliances on or off remotely or according to schedules.
Safety and Security
Smart security systems provide real-time monitoring, motion detection, and alerts to homeowners. Video doorbells and surveillance cameras offer added protection and the ability to remotely check on the home's security. Even in an area with low crime rates or in a gated community, safety and security are paramount for most homeowners. Smart home security systems meet this need in an ideal way.
Why are smart homes popular in Los Angeles?
Smart homes have increased in popularity across the nation, but there are quite a few reasons that they have become so in-demand in Los Angeles.
Many LA homeowners live busy lives that involves a full schedule, lengthy commute time, and a lifestyle that requires efficiency. Smart homes seamlessly support the goals of a busy household by outsourcing many of the monotonous tasks that are required to keep a home operating well.
Smart homes also create a sense of luxury, a features many Los Angeles homeowners are after. You can design a home that is always working to keep your comfortable.
Another reason so many Los Angeles homeowners want a smart home is their lifestyle of travel. Whether for work or pleasure, many LA residents spend a large portion of their time away from home. Whether traveling or at work, homeowners can monitor their smart homes remotely. They can check security cameras, adjust thermostats, and receive alerts in case of unusual activity or system issues.
If you would like to learn more about buying a home in Los Angeles that features the technology you want, we are here to help. Contact us any time for more information.