The Influence of Outdoor Spaces on Los Angeles Real Estate
Posted by Beata Mandell on Friday, September 22, 2023 at 9:44:34 PM
By Beata Mandell / September 22, 2023
Comment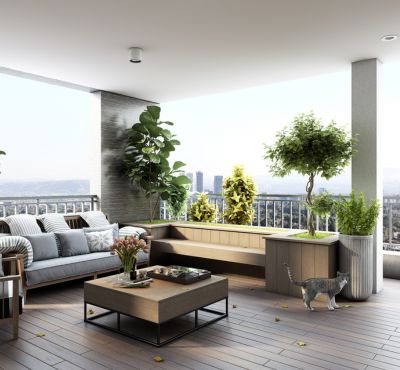 Before you sell your home in Los Angeles, it just makes sense to make sure that your property is poised to attract your ideal buyer and the top possible purchase price. In Los Angeles, one way to do this is to make sure you have taken full advantage of your outdoor space.
Whether it's a private balcony or rooftop patio in your high rise condo, or a secluded back yard with a pool, understanding the influence of your outdoor space on your home's value is key to preparing your Los Angeles property for a successful sale.
Outdoor space is a significant and often defining feature of homes for sale in Los Angeles, influencing everything from property values to the way people live and entertain. Los Angeles' enviable climate and breathtaking natural surroundings have made outdoor living an integral part of the local lifestyle, and outdoor spaces play a crucial role in shaping the city's real estate market.
Year-Round Benefits
Los Angeles is known for its mild Mediterranean climate, which allows residents to enjoy outdoor spaces year-round. This factor alone makes outdoor areas a valuable addition to any home. In Los Angeles, outdoor spaces are not just for the occasional summer barbecue; they are an extension of daily living.
Because so many people moving to or living in Los Angeles expect to spend a significant portion of their time at home outside, having an outdoor living space of some kind may be a top priority for your ideal buyer.
Increased Living Space
In both urban and suburban parts of Los Angeles, homeowners are looking for ways to take full advantage of every square foot of the property. Outdoor spaces effectively expand a home's livable area. Whether it's a spacious patio, a garden, or a deck, these areas provide additional square footage for relaxation, dining, and recreation. This added space is especially appealing in a city where square footage can be at a premium.
Alfresco Dining and Entertainment
Alfresco dining and outdoor entertaining are cherished traditions in Los Angeles. Homes with spacious outdoor kitchens, dining areas, and seating arrangements are particularly attractive to buyers. These spaces are perfect for hosting gatherings, barbecues, and enjoying the city's spectacular sunsets.
As you think about staging your home, consider how you can design your outdoor space to be suitable for dining and entertaining. Showing the potential for the space, even if you have not previously used it that way, can be a key to successfully selling your property.
Panoramic Views
In many parts of Los Angeles, but particularly in high rise condos or beachfront properties, the view is a significant selling point for the home. Los Angeles is famous for its scenic vistas, and homes with outdoor spaces that offer panoramic views of the city, mountains, or coastline are highly coveted. Rooftop terraces and balconies provide an ideal vantage point for taking in these breathtaking views, adding significant value to a property.
Consider the views enjoyed from your property and how to maximize the impact with the way you set up your outdoor spaces.
Outdoor Features Buyers Want to See
All outdoor spaces will be a benefit, but there are some features in particular that buyers want to see.
Most outdoor spaces in Los Angeles are increasingly designed with sustainability in mind. Eco-friendly features such as drought-tolerant landscaping, rainwater harvesting systems, and solar panels are becoming more common, aligning with the city's commitment to environmental conservation.
In a city that values health and wellness, outdoor spaces are often designed with relaxation and exercise in mind. Think about whether you can feature a meditation garden, yoga deck, hot tub, or even a private fitness area.
With the rise of remote work, outdoor spaces have taken on new significance. Many homeowners are investing in outdoor workspaces, whether it's a secluded garden nook or a covered patio with Wi-Fi access. These spaces provide a refreshing change of scenery and enhance work-life balance.
When you are ready to list your home in Los Angeles for sale, contact us. We are here to help you strategize for a successful listing.