Most Expensive Neighborhoods in Los Angeles
Posted by Beata Mandell on Thursday, September 9, 2021 at 10:40 AM
By Beata Mandell / September 9, 2021
Comment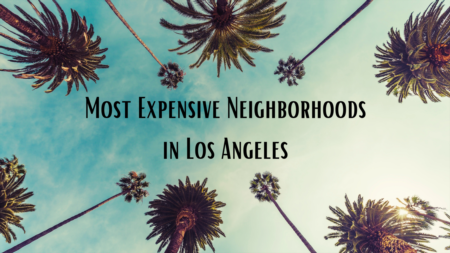 It's no secret that the highly sought-after city of Los Angeles is often accompanied by high price tags. From high-end shopping districts, fine dining, and eccentric entertainment venues, the city is a hot spot for celebrities, internet tycoons, and business professionals who are looking for the perfect mix of work and pleasure. While there are areas within the city's limits that provide more affordable housing, you can't forget about Los Angeles's most expensive, and often most sought-after, neighborhoods.
Paradise Cove Bluffs
Even the name sounds luxurious! Paradise Cove Bluffs is a beachfront neighborhood where each home has its own private access to the sandy beaches of Malibu. Boasting views of the Pacific Ocean and Catalina Island, these homes can reach more than 13,000 square feet and are accompanied by impeccably landscaped lots that can easily provide you with outdoor entertainment space, beachside pools, outdoor kitchens, courtyards and so much more.
Beverly Park
Known for housing many A-list celebrities, the Beverly Park neighborhood boasts the famous 90210 zip code, with many of the real estate listings reaching the tabloids. Homes within the neighborhood are a minimum of 5,000 square feet, however, the largest homes within Beverly Park exceed 40,000 square feet, many of which include in-home theaters, bowling alleys, tennis courts, swimming pools, and so much more.
Holmby Hills
Holmby Hills is one of the three points of the Platinum Triangle. Surrounded by an urban atmosphere, Holmby Hills is home to some of the most famous Real Estate in Los Angeles including the infamous Playboy Mansion as well as the Spelling Manor and Carolwood Estate, formerly owned by Walt Disney himself. Many of the estates in Holmby Hills boast more than 10,000 square feet and are architectural works of art.
Serra Retreat
Serra Retreat is an exceptional neighborhood providing luxurious homes within the gated community, Serra Retreat provides both hillside homes with ocean views as well as homes nestled into a lush wooden glen for seclusion and beauty. Serra Retreat is a great neighborhood if you're hoping to enjoy all the perks of living near the coast while still feeling as if you're nestled into the countryside with a hint of country living.
Bel Air Estates
Bel Air Estates is another point of the Platinum Triangle, near UCLA, while the neighborhood isn't fully gated, multiple security guards and mature hedges and trees ensure the security and privacy of the communities' residents. The lots within Bel Air Estates are among some of the largest in Los Angeles, with sprawling lawns many Bel Air homes are complete with full outdoor living, from outdoor entertainment, swimming pools, tennis courts, rose gardens and more, Both the homes themselves as well as the surrounding lush landscape are simply breathtaking.
Whether you're searching for the perfect retreat to escape the hustle and bustle of city living, are hoping to find a mansion with all the bells and whistles, or prefer a smaller estate rich with history, Los Angeles is the perfect place for those with all tastes and styles to find the perfect place to call home.