Inside the Most Beautiful Mansions and Houses in Los Angeles
Posted by Beata Mandell on Friday, October 27, 2023 at 6:44 AM
By Beata Mandell / October 27, 2023
Comment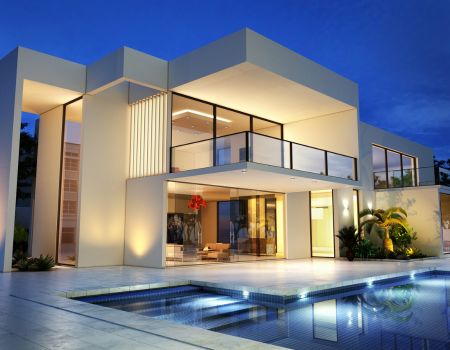 Los Angeles has long had a reputation as a city with some of the most luxurious homes in the nation, between iconic neighborhoods like Bel Air, celebrity homes, and mansions that take full advantage of this coastal location. Have you ever wondered what some of the most impressive Los Angeles homes are like on the inside? Keep reading to learn more about the impressive houses and mansions that are a part of this glamorous real estate market.
Stratadella
Stratedella is the name given to a project by famous South African firm SAOTA, their first in Los Angeles. The 1970s home was fully renovated, converting what was one a Spanish-style dwelling into something far more modern and minimal.
Many solid walls were replaced with glass, opening it up to take full advantage of the impressive views the property features. Situated on a promontory in Bel Air, Stratadella boasts breathtaking panoramic views of the city and the Santa Monica Mountains.
By stripping the property back to its skeleton, SAOTA completely transformed what was already a luxury property into something utterly impressive and modern, maximizing every square inch of its abundant square footage.
As with many luxury homes and mansions in Los Angeles, Stratadella features wide open vistas on the rear side of the property, but maintains plenty of privacy with a secluded entrance, rounded driveway, and lush landscaping.
The Edwin Residence
Originally built in 1961, the Edwin Residence was renovated by Heusch. According to the design firm, the original design did not fully embrace the property's potential to showcase its location and views from it's position in the Santa Monica Mountains above the iconic Mulholland Drive.
After being renovated, the Edwin Residence features living space that seamlessly opens onto an expanded terrace. The glamorous outdoor living space features an infinity pool the appears to extend into thin air above the valley.
With the same clean lines sand abundant natural light many modern homes showcase, the Edwin Residence sets itself apart with its striking color scheme. The fireplace is constructed of a beautiful stone with blues, grays, and greens, and the kitchens features a refreshing change from the all black-and-white aesthetic of many modern homes.
Barrington Residence
The Barrington Residence in Brentwood is distinct from most other homes in Los Angeles. It is carved into the slope of the property, a multi-level design with grass as it's roof.
The layout is Z-shaped, a series of polygons connected to make an absolutely unique design. Also on the property is an expansive pool house. The unusual design provides abundant opportunities for indoor-outdoor living, perfect for this sunny climate and a property with such panoramic views.
Casa Pino
Located in Echo Park, Casa Pino is a hilltop home designed by German art director Tina Schaedler when he could not find a home that was right for his own family. The home was designed to feature unique atmospheres and feelings in each room, almost like stepping into distinct film sets as you walk through the house.
This gorgeous house is characterized by abundant natural light and large windows. The design makes the most of panoramic views from the elevated location, including a view of the iconic Hollywood sign. Nearly all of the furniture in Casa Pino is not only custom, but built in to the home to contribute to the intricately planned design.
Trousdale House
Many of the mansions in Los Angeles have been customized in response to not being able to find a unique feature during the house hunting process. Trousdale House was designed for an art collector who wanted large enough wall space to showcase his expansive collection and massive singular art pieces, a feature hard to come by in most homes on the market.
In response, the collector worked with Studio William Hefner to design a modern mansion overlooking Beverly Hills that would provide ample wall space, and more. Trousdale House also maximizes natural light with massive windows, glass walls, skylights, and more to further be able to enjoy the art collection.
A luxury home might showcase any unique feature the owner desires, from space for an art collection to plenty of privacy to a home beneath the grass. Los Angeles is filled with impressive and surprising mansions. Want to find your own luxury home in Los Angeles? Contact us any time.