High Rise Condominiums Near Your Child's College In L.A.
Posted by Beata Mandell on Wednesday, May 17, 2023 at 7:37:36 AM
By Beata Mandell / May 17, 2023
Comment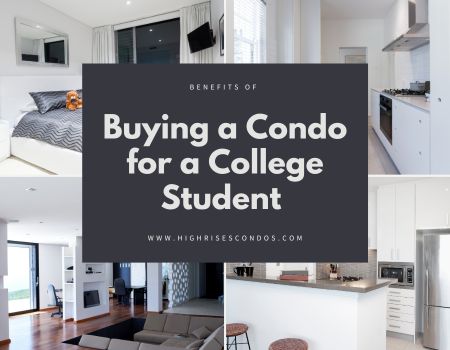 Buying a condo for your college student can be an ideal way to meet the needs of your family while making a smart investment. Before buying a high rise condo in Los Angeles, consider the location, affordability, association rules, amenities, and resale value. These factors can impact the investment value and your lifestyle. To make a decision you can feel confident about, take the time to do your research and depend on the expertise of an experienced local real estate expert like us.
High-Rise Condominiums Near Your Childs College
Choose from numerous high rise condos in Los Angeles, depending on the school your student will be attending and your unique criteria.
The Lorenzo is a 25-story luxury apartment complex located near the University of Southern California (USC), offering residents a variety of floor plans and amenities. If your student plans to attend UCLA, consider the nearby Westwood Village. It is a 21-story building that sits close to UCLA, featuring spacious apartments with stunning views of the city.
Another notable option is Ten Thousand, a 40-story luxury tower located near the Beverly Hills campus of the University of California Los Angeles (UCLA). With incredible views of the city, Ten Thousand is an ideal place for those looking for luxurious accommodations. Looking for something near both the Art Institute of California and the Los Angeles Film School? Wilshire La Brea is an 18-story building situated close to both, offering modern apartments with a range of floor plans.
Avenue One is a 17-story building near Loyola Marymount University, featuring luxury apartments and a variety of amenities, such as a rooftop pool and fitness center. Keep in mind that these are just a few examples of the high-rise condos available near colleges in the Los Angeles area, and there are plenty of other options to consider based on your individual preferences and needs.
Any of the prestigious buildings along the Wilshire Corridor are also ideally located for Los Angeles college students, offering some of the best views and conveneint access throughout the city.
Looking for more choices near UCLA or USC? Contact us any time to learn more about these excellent condo buildings:
Benefits Of Buying A Condominium For Your Child While In College
The standard living situation for a college student is either living at home with parents or in the college dorm. However, there are numerous benefits to buying a condo for your college student to live in instead.
Housing Stability
Before considering the financial benefits of buying a condo for your Los Angeles college student, keep in mind that this living scenario will provide a unique level of stability. With a personal condo, your student can avoid the hassle of moving frequently, regularly finding new roommates, or being on the hunt for a new rental each semester or school year.
This stability can contribute to a more successful college experience, allowing your student to focus more of their time, energy, and resources to their studies and networking.
Cost Effective
While buying a condo in Los Angeles is likely more expensive upfront than helping your student rent an apartment or pay for room and board, it may end up being the more cost effective option long term.
Your financing options will be more abundant when buying a condo in contrast to paying for a dorm and you will not be paying a premium price for the less than premium experience most college dorms offer.
Investment Opportunity and ROI
Buying a condo in Los Angeles is a predictably lucrative investment, offering the opportunity to benefit from building significant equity over the time your student is in college. Even if you plan to sell the condo as soon as your student graduates, you can reasonably expect to have built up equity during that four year period that will have been worth the expense.
When paying for a rental apartment or dorm room for your student, there is no ROI. Buying a condo offers the opportunity to make your money back, and then some, after graduation. You can even continue to leverage the asset by renting it out to other college students after your own is ready to move on.
Tax Benefits
Don't forget about the tax benefits of owning another real estate property. As the property owner, you may be eligible for tax deductions on mortgage interest payments and property taxes, which could help offset the cost of owning the condominium.
The Bottom Line
Buying a condo for your college student in Los Angeles is a significant investment that does come with real risks. You should be prepared for the potential expenses that come with homeownership, like maintenance, repairs, property tax increases, and other associated costs. Weigh the pros and cons with your financial advisor, and let us know how we can help.
It is crucial to collaborate with seasoned real estate experts to smoothly navigate the purchasing, selling, or investing procedure. Whatever your priorities, we are ready to help. To explore opulent real estate and high-rise living options, feel free to get in touch with us today. With our vast experience in the high-rise real estate domain, we can assist you in locating the ideal property that aligns with your requirements and preferences.