Celebrity Neighborhoods in California: Where the Stars Call Home
Posted by Beata Mandell on Wednesday, August 16, 2023 at 4:36:58 PM
By Beata Mandell / August 16, 2023
Comment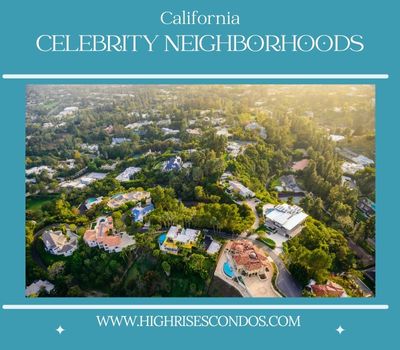 Los Angeles is known for its numerous neighborhoods that attract celebrities and high-profile individuals due to their privacy, luxury, and proximity to entertainment industry hubs. While different celebrities are drawn to various locations throughout California, there are some neighborhoods known for being populated by celebrities.
Beverly Hills
Perhaps the most famous celebrity enclave, Beverly Hills is known for its upscale living, luxury shopping on Rodeo Drive, and iconic palm-lined streets. The Beverly Hills Post Office area and the Trousdale Estates are particularly favored by celebrities.
Beverly Hills neighborhoods that are popular with celebrities include Trousdale Estates, Beverly Hills Flats, Beverly Park, Mullholand Estates, Benedict Canyon, and Coldwater Canyon.
Bel Air
Adjacent to Beverly Hills, Bel Air is characterized by its prestigious gated communities, large estates, and privacy. Despite its privacy, Bel Air is still relatively close to amenities such as upscale shopping, dining, and cultural attractions.
The neighborhood's exclusive East and West Gates are home to many A-listers. Bel Air has a history of hosting celebrity residents, which can make it feel like a welcoming community for those in the entertainment industry. This sense of familiarity and shared experiences can be appealing to celebrities seeking a like-minded environment.
Many celebrities choose to purchase existing properties in Bel Air, while others opt to build their dream homes from the ground up. This customization allows them to create spaces tailored to their specific needs and preferences.
Los Feliz
This historic neighborhood offers a mix of vintage homes and a bohemian vibe, attracting artists, writers, and celebrities looking for a more relaxed environment. Its history includes a connection to the entertainment industry, as the neighborhood is home to the historic Vista Theatre and has been a hub for writers, musicians, and actors over the years. The artistic and creative atmosphere may resonate with celebrities who appreciate this heritage.
While Los Feliz is more laid-back than some other celebrity-frequented areas, it's still conveniently located near major entertainment industry hubs, studios, and theaters. This makes it feasible for celebrities to commute to work and industry events.
Holmby Hills
Situated between Beverly Hills and Bel Air, Holmby Hills boasts sprawling mansions, private estates, and lush landscapes. The Playboy Mansion is located here, among other impressive estates.
Holmby Hills is characterized by its expansive properties, large lots, and luxurious residences. The neighborhood is known for its lush landscaping, manicured lawns, and private gates that offer a sense of exclusivity and seclusion. Many homes in Holmby Hills exhibit architectural styles such as Spanish Colonial Revival, French Normandy, and Georgian, contributing to the neighborhood's classic and timeless aesthetic.
Malibu
This coastal paradise offers beachfront properties and stunning ocean views, attracting celebrities who seek a serene escape from the city. The Malibu Colony is known for its celebrity residents, providing a luxury coastal lifestyle with convenient proximity for travel and the entertainment industry in Hollywood and Los Angeles just a short drive away.
Hollywood Hills
The Hollywood Hills offer both city views and the feeling of a secluded retreat. The Bird Streets (A collection of streets with avian names such as Blue Jay Way and Nightingale Drive, known for their upscale homes, panoramic views, and celebrity residents) and Mulholland Drive are known for their celebrity homeowners.
Hollywood Hills has long been a popular choice for celebrities and entertainment industry professionals. Its combination of privacy, stunning homes, and proximity to studios and entertainment hubs makes it an attractive option for those in the spotlight.
If you'd like to learn more about homes for sale in any of these neighborhoods, contact us any time. We can help you find your dream property in California.