8 Top Beach Communities and Neighborhoods in California
Posted by Beata Mandell on Sunday, October 22, 2023 at 9:14:11 PM
By Beata Mandell / October 22, 2023
Comment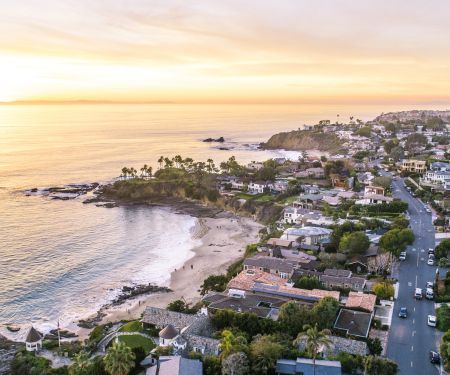 California is renowned for its stunning coastline and numerous beach communities that offer residents and visitors a wide array of coastal living experiences. From iconic beach towns to upscale seaside neighborhoods, the state boasts a diverse selection of beach communities that cater to various lifestyles and preferences.
Whether you are looking for a prestigious beach community in Los Angeles, or a coastal setting somewhere else in California, we can help you find your ideal location. Contact us any time to get started, and keep reading to learn more about 8 of the best beach communities in the state.
1. Malibu
Known for its picturesque beaches, celebrity homes, and upscale coastal living, Malibu offers residents a luxurious beachfront lifestyle with stunning ocean views, exclusive amenities, and a vibrant arts and culture scene.
2. La Jolla
Located in San Diego, La Jolla is celebrated for its pristine beaches, upscale neighborhoods, and picturesque coastal cliffs. The area offers residents a sophisticated beach lifestyle, exclusive real estate options, and a thriving cultural and culinary scene.
3. Santa Monica
With its iconic pier, bustling promenade, and vibrant beach culture, Santa Monica combines the charm of a beach town with the conveniences of urban living. The area features a mix of upscale residences, trendy dining establishments, and a lively entertainment scene.
4. Newport Beach
Known for its affluent neighborhoods, upscale shopping districts, and scenic harbors, Newport Beach provides residents with a sophisticated coastal lifestyle, luxury waterfront properties, and a range of recreational activities, including boating and water sports.
5. Laguna Beach
Renowned for its scenic coves, artistic heritage, and pristine coastline, Laguna Beach is a picturesque beach community that offers residents a blend of natural beauty, cultural attractions, and a thriving arts community.
6. Manhattan Beach
With its scenic shoreline, upscale boutiques, and trendy dining options, Manhattan Beach provides residents with a lively beach atmosphere, a family-friendly environment, and a range of recreational activities, including beach volleyball and cycling along the Strand.
7. Huntington Beach
Dubbed "Surf City, USA," Huntington Beach is a renowned beach community known for its iconic surfing culture, vibrant beach events, and family-friendly attractions, making it an ideal destination for outdoor enthusiasts and beachgoers.
8. Venice Beach
Celebrated for its eclectic boardwalk, diverse arts scene, and bohemian atmosphere, Venice Beach offers residents a unique blend of laid-back beach living, creative expression, and a diverse community of artists and entrepreneurs.
California Beach Community Real Estate
Each of these communities features its own distinct real estate market. You will find everything from smaller, older beach houses oozing with charm to modern luxury condos with ocean views, as well as impressive oceanfront estates with all the features and amenities you dream of.
Quaint beach cottages, contemporary single-family homes, and custom-built residences are prevalent in these beach communities, offering residents a mix of architectural styles, layouts, and design options that blend seamlessly with the coastal surroundings.
Some of these beach towns boast historic properties and vintage homes that showcase architectural heritage, classic designs, and unique character. These properties often preserve the area's rich history and cultural significance, providing homeowners with a sense of tradition and nostalgia that adds to the charm and authenticity of the community.
Several of these beach towns offer upscale beachfront condominiums that provide residents with a blend of luxury living and convenient access to the area's pristine beaches and vibrant coastal attractions. These condominium complexes often feature resort-style amenities, including fitness centers, spas, and concierge services, creating an ideal living environment for those seeking a low-maintenance, high-end coastal lifestyle.
Any of these locations might have your dream beach home. You will find expansive luxury waterfront estates that offer panoramic ocean views, private beach access, and exclusive amenities, such as private docks, infinity pools, and expansive outdoor entertainment areas.
When you are ready to buy your own home by the beach, we have the network and expertise you need to find it. Contact us any time to begin the search for your ideal property.