7 Stunning Architectural Styles Featured in Luxury Los Angeles Homes
Posted by Beata Mandell on Monday, June 19, 2023 at 12:39:39 PM
By Beata Mandell / June 19, 2023
Comment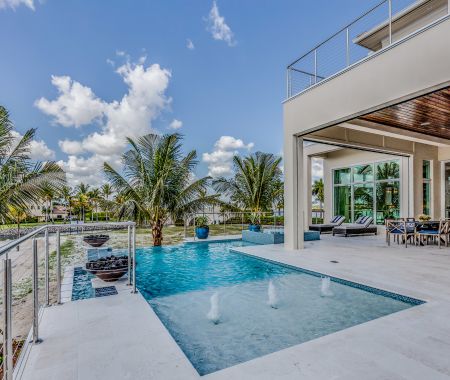 Los Angeles is known for its diverse architectural styles and luxury real estate. Whether you are looking for a historic Hollywood home or something brand new and modern, we can help you find it. Consider which is your favorite style to fine tune the search for your next dream home in Los Angeles.
Showcased in both luxury high rise condos and single family homes, these are 7 of the most stunning architectural styles you will find in Los Angeles.
1. Spanish Colonial Revival
This style pays homage to the city's Spanish heritage. It is characterized by stucco exteriors, red clay tile roofs, and arched doorways that produce an elegant and timeless look. Many Spanish Colonial Revival homes in Los Angeles feature ornate details such as wrought iron accents, colorful tiles, and beautiful courtyards that create an inviting and luxurious ambiance.
2. Mediterranean
Drawing inspiration from the coastal regions of Italy, Spain, and Greece, Mediterranean-style homes in Los Angeles exude elegance and sophistication. This is one of the most popular architectural styles in the area because of its wide-reaching appeal.
These homes often feature stucco exteriors, terracotta roofs, and expansive outdoor living spaces such as courtyards, balconies, and terraces. The interiors often showcase high ceilings, ornate detailing, and rich materials like marble and wrought iron. Most Mediterranean homes boast a beautiful indoor-outdoor living concept that is ideal in the sunny Los Angeles climate.
3. Modern
Los Angeles is renowned for its modern architectural gems that showcase sleek lines, open floor plans, and an emphasis on indoor-outdoor living. You will even find many art galleries, museums, and other major buildings in the area featuring this style.
These luxury homes often incorporate floor-to-ceiling windows, clean geometric shapes, and minimalist aesthetics. Many modern homes feature luxurious amenities such as infinity pools, expansive decks, and cutting-edge technology, creating a seamless blend of style and functionality. If you are draw to sleek minimalism, you will love a luxury home in the Modern style.
4. Mid-Century Modern
Not to be confused with Modern style, Mid-Century Modern has its own look entirely. This architectural style gained popularity in the 1950s and 1960s and is characterized by its integration with nature and emphasis on simplicity. Mid-Century Modern homes in Los Angeles typically feature open floor plans, large windows, and flat or low-pitched roofs.
They often have an organic flow between indoor and outdoor spaces, with features like atriums, courtyards, and sliding glass doors. These homes exude a timeless appeal and have been carefully preserved or tastefully renovated to maintain their original design ethos. While they had a major trending moment in recent years, the aesthetic has remained popular in Los Angeles for decades and has a timeless appeal.
5. Hollywood Regency
Inspired by the glamorous golden age of Hollywood, Hollywood Regency-style homes are all about opulence and theatricality. This architectural style exudes drama and romance, and showcases the Los Angeles culture beautifully
These luxury homes often feature grand facades, dramatic entryways, and ornate detailing. Inside, you'll find high ceilings, chandeliers, mirrored accents, and bold colors. Hollywood Regency homes often boast lavish amenities such as home theaters, game rooms, and extravagant outdoor entertainment areas.
6. Contemporary
Contemporary architecture is a beautiful representation of Los Angeles' embrace of cutting edge technology, eco-friendly materials, and beautiful design. Los Angeles embraces contemporary architecture with its innovative and cutting-edge designs. Contemporary luxury homes often feature unique geometric shapes, extensive use of glass, and an integration of natural elements like stone and wood.
These homes focus on maximizing natural light and capturing breathtaking views. The interiors showcase sleek finishes, minimalist aesthetics, and state-of-the-art technology, creating a luxurious and modern living experience.
7. Traditional
While Los Angeles is known for its modern and contemporary architecture, there are also many luxury homes that follow a more traditional style and appeal to a wide range of buyers. These homes often draw inspiration from classic European designs and feature symmetrical facades, elegant detailing, and formal landscaping. Inside, you'll find spacious rooms, intricate moldings, and luxurious finishes. Traditional luxury homes exude timeless elegance and provide a sense of refinement and comfort with a design that will stand the test of time.
No matter what style you prefer, or what you're dreaming of, we are ready to help you find it. Our team of Los Angeles real estate experts are waiting to make your dreams reality. Contact us any time to learn more.